---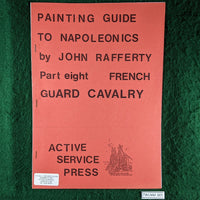 Classic old school painting guide with simple line drawings and explanations/descriptions of the colours of the uniforms. Printed single sided and stapled together they are nevertheless excellent overviews for painting Napoleonics.

These guides all came from a private library so have a previous owners name + address sticker on the cover and internally.

This copy is in Excellent condition although there is a bit of rust on the staples. Of course, the book pictured is the one you will receive.