---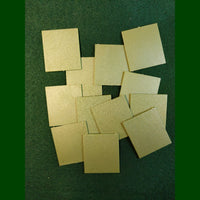 Want a perfectly flat base for your miniatures? Look no further than Renedra. They are the standard for historical miniatures, available in a variety of sizes they are 1.5mm thick and made from the same hard plastic as most 28mm wargaming miniatures.
You will receive green or tan depending on what we have in stock. Message if you have a preference.
NEW

This is one packet of 40 x 45mm bases 12 bases in total.