---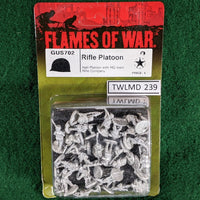 The American Rifle Platoon (GUS702) pack includes one American Rifle Half-platoon with Command Rifle team, four Rifle teams, two VB (rifle grenade) teams and two Chauchat MG teams, one three-hole Small base, eight four-hole Medium bases and one plastic base-plug sprue.
Metal miniatures supplied unassembled and unpainted.
This set is in Excellent condition, still sealed in the blister.