---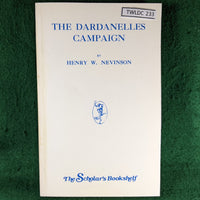 Henry Nevinson, author of this fascinating history of the Dardanelles campaign, was the leading war correspondent of the Edwardian era. A crusading, radical journalist he reported on many conflicts - including the Boer War - for the liberal 'Daily Chronicle' and 'Manchester Guardian' newspapers. His prose is readable and his narrative of the disastrous Gallipoli campaign detailed and masterful. The book also contains orders of battle, trench maps of the Dardanelles peninsular and photographs. The distinguished war historian Sir Cyril Falls wrote of this book 'Mr Nevinson is incapable of writing unattractive prose. As an eyewitness his testimony is also valuable'.
This copy also includes a disc with scans of maps from the original publication. This is a "Scholar's Bookshelf" reprint.

This copy is in Excellent condition with minor marks of shelfwear. It does have a previous owners name on the title page. No spine creases, it looks like it has never been read. As always, the photos show the actual book you will receive.