---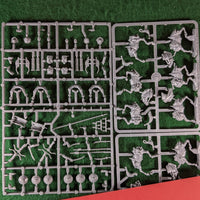 Mongol Horde Cavalry sprue from Fireforge Games. Get ready to build an empire with these four cavalry. You can build all as archers and/or swordsmen, one as a standard bearer or one as a musician. Six shields are included too.
Due to the odd arrangement of the horses on the sprues you will receive four horses, three on one sprue and one on a cut sprue.

Excellent/As New condition. As always, the miniatures shown are the ones you will receive.