---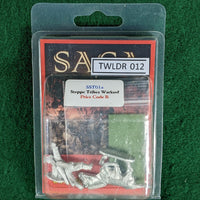 Contains one Hun (Steppe Tribe) Warlord with a separate pony, sword, cast-on shield and separate plastic base.
28mm metal figure, supplied unassembled and unpainted. Sculpted by Colin & Duncan Patten.
Unpainted 28mm figures suitable for a number of historical games such as Saga, Warhammer Ancient Battles, Impetus and many more.
These are in Excellent condition, still in the original packaging.