---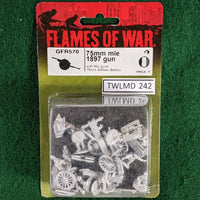 Despite its age the 75mm mle 1897, known to the French as the Soixante Quinze, or 'Seventy Five', remains a revolutionary weapon. More than 40 years after its introduction it is still a devastating weapon, particularly when used against infantry in the open. 4,500 of the guns form the core of the French artillery arm.
Includes Command Pistol team, two 75mm mle 1897 guns, one small three-hole base, two large artillery bases and three plastic base-plug sprues.
Metal miniatures supplied unassembled and unpainted.
This set is in Excellent condition, still sealed in the blister.