---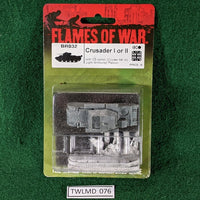 Crusader I or II (Cruiser Mk VI) (BR032) with one Crusader tank with Crusader I & II 2pdr options & CS options.

In April 1939, the General Staff were asked to review all the potential tank designs in consideration for the role of standard heavy cruiser. Potential designs included the A18, A14, A16 and the A15; but the A15 emerged as the favourite for numerous reasons.
Models are unpainted and require assembly.

This set is in Excellent condition in a sealed blister.