---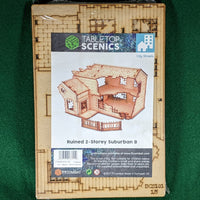 As my Mum always said "This house is a wreck" - this house has seen better days, its crumbling end section and collapsed floor would make this ruin perfect for any bad neighbourhood or wasteland. This kit has an interior and removable roof section for easy access.

At approximately 16.5cm tall it's perfect for 28-32mm scale gaming, whether fighting in WWII, a modern day setting or in a post-apocalyptic future. Made from 3mm MDF, it's easy to put together and look greats on the tabletop.

Model supplied unpainted and requires assembly. We always use PVA glue for MDF kits.