---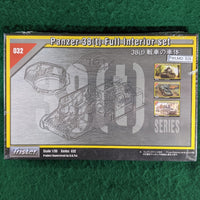 Tristar (now called HobbyBoss) have released three separate kits of the Panzer Kpfw.38(t), Ausf.B (kit #35026), Ausf.E/F (kit #35020) and Ausf.G (kit #35022) which came with the locating lugs on the floor plate but no actual interior parts this set offers the full interior to add this to your model if you wish.
The set includes the fighting compartment interior parts (sprue H) from the recent Marder III H (kit #35030) plus additional sprues I and J with the engine parts as well as a revised etched fret for the finer details.
This gives a total of 134 parts in light beige plastic and 80 etched parts plus the small instruction sheet and of course you need one of the above 38(t) kits to add the interior too with the kit floor plate already having the locating holes for the new interior parts.
This kit is in Excellent condition, still sealed in shrinkwrap. The kit shown in the photos is the one you will receive.