---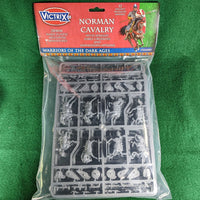 The Norman Cavalry set includes 12 highly detailed 28mm plastic figures. With this set you can create Norman Knights, Breton Knights, Early Crusader Knights and Islamic/Andalusian Knights. There are a variety of body/armour, weapon and shield options. This gives you the freedom to decide your own figure poses and army composition. 
12 Mounted Figures
23 Head/Helmet Options
4 Shield options (Round, Kite, Long Heater, Agada)
6 Weapon options (Lance, Spear, Sword or Javelins, Axe, Mace)
2 Armour options (Chainmail, Scale)
NEW
Unpainted miniatures, some assembly required.