---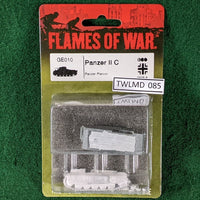 Panzer II C (early) (GE010)

The Panzerkampfwagen II was intended to be a stop-gap measure until sufficient numbers of the Panzer III and IV could be delivered to units in the field. Armed with a 2cm main gun that was considered adequate for the time, the Ausf C first appeared in 1937. The Ausf C featured an increase in frontal armour and the five-wheel leaf spring suspension that the Panzerkampfwagen II became famous for.
Resin and metal models are unpainted and require assembly.

This set is in Excellent condition in a sealed blister.